16-Port 10/100/1000Mbps 802.3at PoE+ Ethernet Switch

Planet - FNSW-1600P

16-Port 10/100Mbps PoE Fast Ethernet Switch






Old price
VAT not included :
110,00 EURO

New price
VAT not included :
116,70 EURO
*) VAT not included
Availability :
Call
Planet FNSW-1600P 16-Port 10/100Mbps PoE Fast Ethernet Switch
Centralized Power Distribution for Ethernet Networking
To fulfill the demand of sufficient PoE power for network applications with 10/100Mbps wire speed transmission, PLANET introduces a new member in the 802.3af PoE Fast Ethernet Switch family – FNSW-1600P, the 16-Port 10/100Mbps 802.3af Power over Ethernet Switch with 125-watts PoE budget. The 16 Fast Ethernet ports integrated with 802.3af PoE injector function are able to drive at least 9 x IEEE 802.3af 12.95-watt Class 3 compliant powered devices. The FNSW-1600P also provides a simple, cost-effective, and non-blocking wire-speed performance with 19-inch metal shape for deployment in compact housing, SOHO office or department network application.

Great Ethernet Traffic Transmission Ability
The FNSW-1600P features high performance switch architecture capable of providing the non-blocking 3.2Gbps switch fabric and wire-speed throughput as high as 2.38Mpps, which greatly simplifies the tasks of upgrading the LAN for catering to increasing bandwidth demands. Besides, the 802.3x full-duplex flow control function of the FNSW-1600P enables PD devices and servers directly connect to the Switch for wire-speed packet transfer performance without risk of packet loss.

Easy and Cost-effective Network Deployment
With data and power over Ethernet from one unit, the FNSW-1600P is able to reduce the need of cables and dedicated electrical outlets on the wall, ceiling or any unreachable place. It helps to lower the installation costs, simplify the installation effort and eliminate the need for electricians or extension cords. With 125-watts Power Budget, the FNSW-1600P is ideal for small business and workgroups deploying the PoE for the wireless access points, IP surveillance cameras and IP phones in any places easily and efficiently.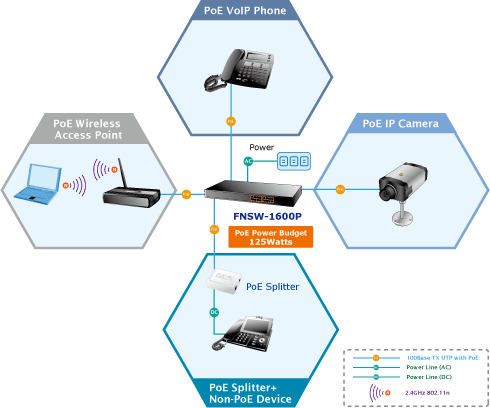 Features
RJ-45 Interface
• 16 10/100Mbps Fast Ethernet ports
• All ports support 48V DC power to PoE Powered Device

Power over Ethernet
• Complies with IEEE 802.3af Power over Ethernet Mid-Span PSE
• Up to 16 IEEE 802.3af devices powered
• PoE Power Budget 125 watts
• Supports PoE Power up to 15.4 watts for each PoE port
• Auto detect powered device (PD)
• Circuit protection prevents power interference between ports
• Remote power feeding up to 100m

Switching
• Hardware based 10/100Mbps auto-negotiation and auto MDI / MDI-X
• Flow control for full duplex operation and back pressure for half duplex operation
• Integrates address look-up engine, supporting 8K absolute MAC addresses
• Automatic address learning and address aging

Hardware
• 19-inch size, 1U height
• LED indicators for PoE ready and PoE activity
• 2 silent fans to support stable and efficient power performance
Application
Department/ Workgroup PoE Network
Providing 16-Port 802.3af PoE in-line power interfaces, the FNSW-1600P can easily build a power centrally-controlled IP phone system, IP camera system and wireless AP group for the enterprise. IP Cameras can be installed around the corner in the company or campus for surveillance demands; or wireless AP be deployed to build a wireless roaming environment. Without the power-socket limitation, the Switch makes the installation of cameras and Wireless AP more easier and efficient.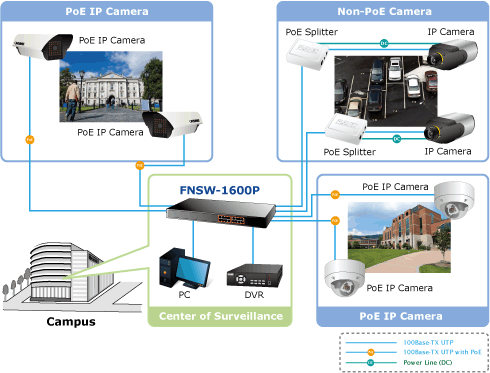 Hardware Specifications
Network Connector
16-Port RJ-45 for 10/100Base-TX
PoE Inject Port
16
LED Display
System: Power (Green)
Per port : PoE (Orange)
     LNK/ACT (Green)
Switch Architecture
Store and Forward switch architecture
MAC Address
8K MAC address table with Auto learning function
Switch Fabric
3.2Gbps
Switch Throughput
2.38Mpps@64Bytes
Power Requirement
AC 100~240V, 50/60Hz, 2A max.
Power Consumption
Max.135 Watts / 460 BTU
Dimensions (W x D x H)
445 x 207 x 45 mm (1U height)
Weight
2.33kg
Power over Ethernet
PoE Standard
IEEE 802.3af Power over Ethernet
PoE Power Supply Type
Mid-Span, PSE
PoE Power Output
Per Port 48V DC, 350mA. max. 15.4 watts
Power Pin Assignment
4/5(-), 7/8(+)
PoE Power Budget
125 watts
Standard Conformance
Regulation Compliance
FCC Class B, CE
Standard Compliance
IEEE 802.3: Ethernet
IEEE 802.3u: Fast Ethernet
IEEE 802.3x: Flow Control
IEEE 802.3af: Power over Ethernet
Environment
Operating environment
0 ~ 50 degrees C
Storage environment
-40 ~ 70 degrees C
Operating Humidity
5 ~ 95%, relative humidity, non-condensing
Storage Humidity
5 ~ 95%, relative humidity, non-condensing
Ordering Information
FNSW-1600P
16-Port 10/100Mbps PoE Fast Ethernet Switch
Download utilities: http://www.planet.com.tw/en/product/product.php?id=39349#dl
* Specificatiile pot fi schimbate fara preaviz