Videointerfon interior 720p - 1Mpx SIP cu PoE

Planet - HDP-1100PT

PLANET HDP-1100PT este un videointerfon SIP de interior cu alimentare PoE.






Pret vechi fara TVA :
992,86 LEI

Pret nou fara TVA :
400,00 LEI
Pret nou cu TVA :
476,00 LEI
Disponibilitate :
In stoc
Keyless Control and Convenience
PLANET HDP-1100PT is a SIP Door Phone with PoE feature. It supports H.264 / MJPEG compression formats and delivers excellent picture quality in 720p HD resolutions at 20 frames per second (fps). The door phone has night vision that you can see short distances in low light. It provides the flexibility and control required for high-quality property complex visitor management, property protection, intercom, and message service.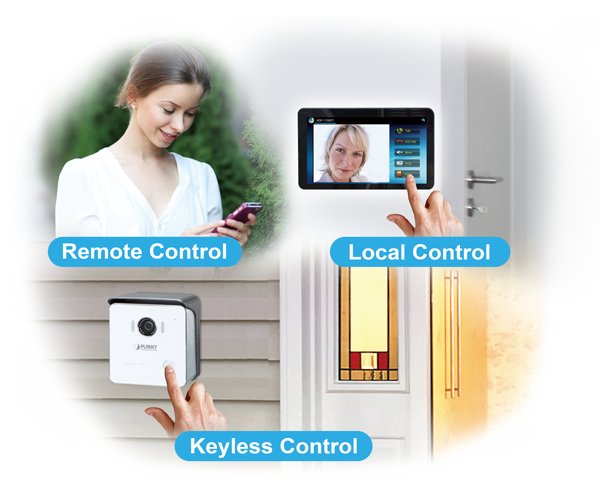 Easy Communication via Intercom
The two-way intercom function provided by the HDP-1100PT allows you to see the visitors and also communicate with them. The HDP-1100PT includes inputs/outputs for connecting to external devices such as door lock or door sensors. When the visitors press the call button at your door, you can press the unlock button on your mobile phone or PLANET HTS-1000P touch screen control pad to open the door for your visitors.

AEC (Acoustic Echo Cancellation)
Acoustic Echo Cancellation (AEC) technology is adopted in PLANET's HDP-1100PT Door Phone and HTS-1000P touch screen control pad to enable users to minimize the voice sound signal distortion shown in the diagram below, thus guaranteeing the best-in-class sound quality.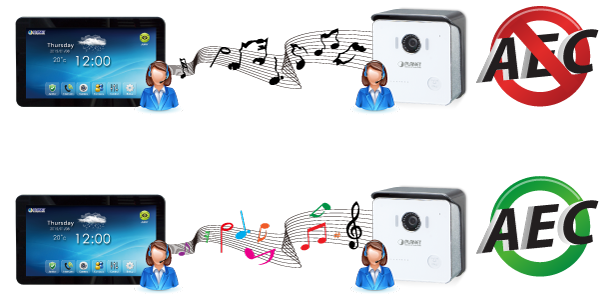 Finding the Door Phone via Smart Discovery
PLANET Smart Discovery is a simple, freely available application for locating intercoms from the IP family in the network. After searching the network, the application shows the device name, firmware version and IP address of all intercoms found on a chart. This simplifies the administration and installation of intercom systems. Simply run the easy-to-use software to get immediate results.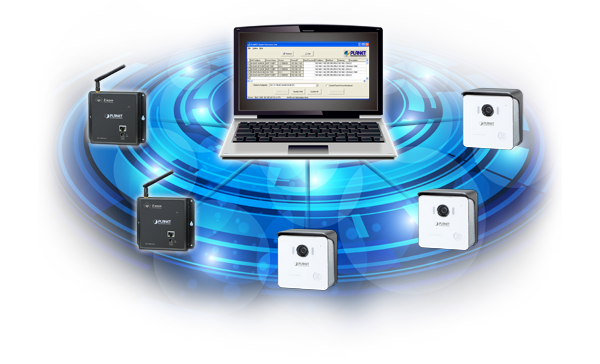 APPLICATIONS
The HDP-1100PT supports 802.3af PoE interface without worrying the electric source. It supports two-way voice communication and remote door release function, which is applicable via any iOS and Android mobile phone and the HTS-1000P touch screen control pad. With the Wi-Fi/3G/4G connection, intercom and door release can all be remotely controlled by your smart phone or tablet no matter what your location is, even you are away from home.
Additionally, the HDP-1100PT has an excellent interoperability using SIP standard VoIP signaling feature by interworking with IP PBX services and video phone.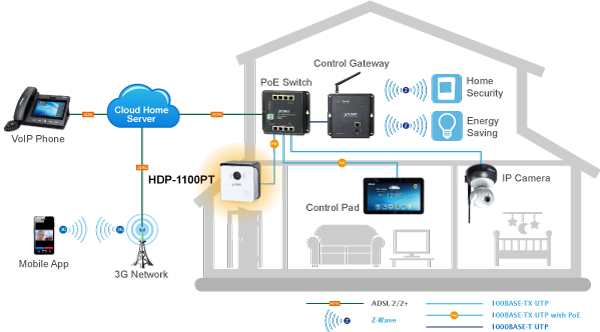 KEY FEATURES
Hardware
1/4" progressive scan CMOS sensor
Compact size – small camera intercom for non-invasive appearance
Six white LEDs provide clear image in low light conditions
Wall-mount and desktop design for indoor unit

Video / Audio
Maximum resolution 1280 x 720
Acoustic Echo Cancellation on speaker path
Adjustable brightness, contrast and volume settings
Two-way Communication

Network and Configuration
Compliant with IEEE 802.3af PoE interface for flexible deployment
Compatible with most modern IP PBX systems
Standard SIP protocol

Easy Installation & Management
Hands-free intercommunication
Have peace of mind from being able to see, hear and speak to your visitors before opening the door
Conveniently unlock the door for visitors without having to go to it
App and control pad alerts for any situation
TECHNICAL SPECIFICATIONS
Camera

Image Device
1/4" 1 mega-pixel progressive scan CMOS sensor
View Angle
112.4-degree wide-ranging horizontal view angle
Monitoring Range
3 meters
LED
White LED x 6, effective up to 0.6 meters

Video

Video Compression
H.264 / M-JPEG
Video Resolution
H.264: 720p, 640 x 480, 320 x 240
MJPEG: 720p, 640 x 480, 320 x 240
Frame Rate
Up to 20fps for all resolutions

Audio

Audio Streaming
Two-way audio
Audio Compression
RTSP: G.711, AAC
Microphone
Built-in microphone and speaker input
Audio Output
Acoustic Echo Cancellation

Network and Configuration

Network Standard
IEEE 802.3 10BASE-T
IEEE 802.3u 100BASE-TX
Protocol
SIP 2.0 (RFC 3261), IPv4, TCP/IP, HTTP, DDNS, DHCP, RTSP, DNS, PPPoE
Functions
Intercom, Doorbell Control, Manual Alarm, Monitoring

General

Power Requirements
IEEE 802.3af Class 3
Operating Temperature
-10 ~ 45 degrees C
Operating Humidity
0 ~ 90% (non-condensing)
Weight
290g
Dimensions (W x D x H)
114 x 114 x 35 mm
Installation
Wall-mount type
Emission
CE, FCC
Connectors
10/100Mbps Ethernet, RJ45
Call Button
Relay Output Port (control door lock or alarm)
DI Port (for door sensor, PIR, emergency button)