Wireless Access Point Extender 300Mbps

Planet - WNAP-C3220A

Wireless Access Point Extender 300Mbps, 802.11n, montabil pe tavan/perete

Pret fara TVA:
165.64 RON
Pret cu TVA :
197,11 RON
Disponibilitate :
Sunati






PLANET WNAP-C3220 is a stylish PoE Wireless Access Point featuring 802.11n wireless technology and unique ceiling-mount artistic design. It offers 300Mbps wireless speed, multiple operation modes, Gigabit LAN connectivity and 802.3af Power over Ethernetfeatures to increase client mobility and speed within a network. Sleek styling housing and ceiling mountable design makes the WNAP-C3220 blends unobtrusively into any ceiling or wall for various environments. This perfect product also creates a secure, cost-effective and highly scalable wireless LAN infrastructure. It is ideal for enterprises, hotels, hospitals and home users to extend wireless network coverage.

Ultra High Speed 802.11n Wireless Type
The WNAP-C3220 features IEEE 802.11n radio with 2T2R MIMO antenna technology to provide improved wireless speed and coverage with up to 300Mbps upload and download data rate. The incredible wireless speed makes it ideal for handling multiple HD movies stream, high resolution on-line game, stereo music, VoIP and data streams at the same time stably and smoothly. It is also backward compliant with 802.11g and 802.11b standards and thus there is no need to change the existing network for convenient maintenance. Just connect to the WNAP-C3220 and you can immediately enjoy the high-speed wireless sharing.

Multiple Operating Modes
The WNAP-C3220 supports multiple wireless communication connectivity: wireless AP, wireless Repeater, WDS Point-to-Point (PtP)and Point-to-Multipoint (PtMP), allowing various applications that give users more comprehensive experience. It also helps users to easily build wireless network and extend the wireless range of existing wireless network.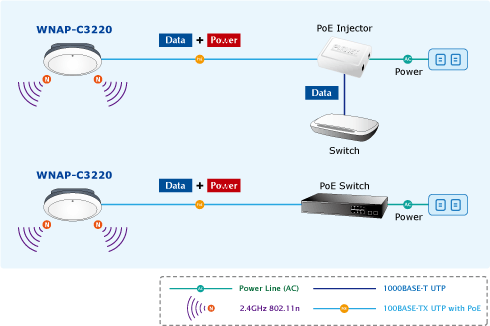 Advanced Wireless Security
In aspect of security, besides 64/128-bit WEP encryption, the WNAP-C3220 integrates WPA / WPA2, WPA-PSK / WPA2-PSK and 802.1x authority to secure and protect your wireless LAN. It provides the wireless MAC filtering and SSID broadcast control to consolidate the wireless network security and prevent unauthorized wireless connection.

Unique Ceiling-mountable Design
Featuring attractive flying saucer appearance and ceiling-mountable design, the WNAP-C3220 can be firmly adsorbed on the ceiling or the wall, which is easy and convenient for client-side installation. Its streamlined body without protruding antennas also gives effects of embellishment on the surroundings.

Flexible Deployment with PoE Feature
Compliant with IEEE 802.3af Power over Ethernet standard, the WNAP-C3220 can be powered and networked by a single UTP cable. It thus reduces the needs of extra cables and dedicated electrical outlets on the wall, ceiling or any other place which is difficult to reach. The wireless AP deployment becomes more flexible and frees you from worry about the power outlet locations.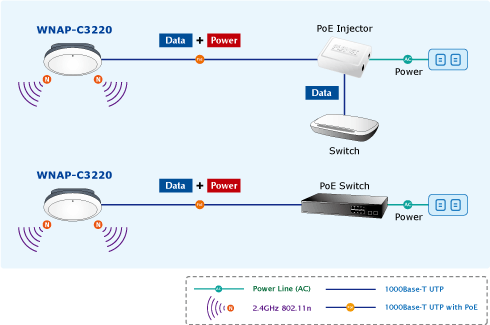 Easy Installation and Management
With user-friendly Web UI and step by step wizard of the WNAP-C3220, it is easy for users to install the device, even for a user who never experiences in setting up a wireless network. Its SNMP feature allows the system administrator to remotely monitor and control the network devices more efficiently.
High Speed and Secure Wireless LAN Connection
The WNAP-C3220 is an ideal solution to providing 300Mbps high speed wireless networking to all residential and office users. Locate the WNAP-C3220 at the central point in an office or home, and connect it to an xDSL / cable modem, and then the WNAP-C3220 provides high speed Internet access capability for the office or home wireless networking. Furthermore, the WPA-PSK / WPA2-AES mechanism of the WNAP-C3220 can effectively prevent the information from eavesdropping by unauthorized users. For efficient enterprise applications, multiple WNAP-C3220 PoE APs can be powered directly from one PoE Switch, for example, PLANET SGSW-24040P 24-Port Gigabit PoE Switch, and perform advanced PoE management features, such as PoE power on/off schedule, usage monitoring, SNMP trap and email alarm.
Home Wireless Range Extender
The WNAP-C3220 is the characterization of ceiling mounting design and advanced MIMO technology which reduces the effect of dead spot, so that it can get a better coverage of the existing wireless network. The WDS and repeater modes by the WNAP-C3220 also help to minimize installation and cabling costs.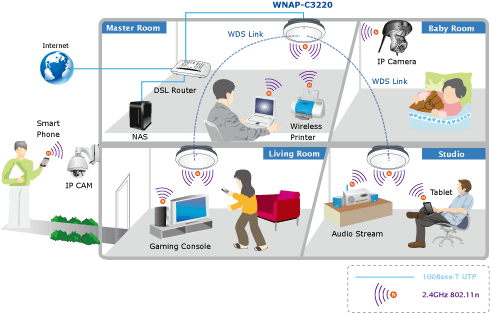 Standard Compliant Hardware Interface
Complies with IEEE 802.11n and backward compatible with IEEE 802.11b/g standards
1 x 10/100/1000Base-TX Port with 1-port PoE (PD, Powered Device)
Supports 802.3af standard-based PoE and local AC power
RF Interface Characteristics
2T2R MIMO technology and Ceiling Mountable Design for enhanced throughput and coverage
High speed up to 300Mbps wireless data rate in 802.11n mode
Secure Network Connection
Advanced security: 64/128-bit WEP, WPA / WPA2, WPA-PSK / WPA2-PSK (TKIP/AES encryption) and RADIUS authentication
Supports MAC address filtering
Comprehensive Advanced Features
Multiple Wireless Modes: AP, WDS PtP/ PtMP, WDS Repeater, Universal Repeater
Supports WMM (Wi-Fi Multimedia) and wireless QoS to enhance the efficiency of multimedia application
Supports up to 4 multiple-SSIDs to allow users to access different networks through a single AP
Supports VLAN function to limit the clients to access the specific internal network resource
Easy Installation & Management
Stylish ceiling mount design
Flexible deployment with standard 802.3af PoE / PD supported
SNMP-based management interface and Planet Smart Discovery supported
Centralized Management Utility allows administrator to monitor and configure remotely
Hardware Specifications
Interfaces LAN
1x 10/100/1000Base-T, Auto-MDI/MDIX, 802.3af PoE compliant
Interface Wireless
IEEE 802.11b/g/n
PoE
IEEE 802.3af PoE
Antenna
Built-in 3dBi antenna x 2
Reset Button
Reset button on rear panel
Press over 7 seconds to reset the device to factory default
LED Indicators
PWR/SYS LED x1
Material
Plastic
Dimensions (Φ x H)
144 x 33 mm
Weight
165g
Power Requirements
Power Supply: DC 12V, 1A
Power over Ethernet: IEEE 802.3af PoE, DC 48V, 0.35A
Power Consumption
11.26W (max.)
Wireless Interface Specifications
Modulation Type
Transmission / Emission Type: DSSS / OFDM
Data modulation type: OFDM: BPSK, QPSK, 16-QAM, 64-QAM, DBPSK, DQPSK, CCK
Frequency Band
2.412~2.484GHz
Operating Channel
America/ FCC: 2.412~2.462GHz (11 Channels)
Europe/ ETSI: 2.412~2.472GHz (13 Channels)
Channel Width
20 or 20/40MHz
Data Rate
IEEE 802.11b: 1/ 2/ 5.5/ 11Mbps
IEEE 802.11g: 6/ 9/ 12/ 18/ 24/ 36/ 48/ 54Mbps
IEEE 802.11n: 300 Mbps in 40MHz mode / 150Mbps in 20MHz mode
Receiver Sensitivity
IEEE 802.11b: -92dBm @ 1Mbps; -85dBm @ 11Mbps, PER < 8%
IEEE 802.11g: -88dBm @ 6Mbps; -73dBm @ 54Mbps, PER <10%
IEEE 802.11n: -90dBm @ MCS8; -70dBm @ MCS15, PER <10%
RF Power (Intentional Radiator)
20dBm (Max.)
Wireless Management Features
Wireless Modes
Access Point, WDS PtP, WDS PtMP, Universal Repeater
Multiple-SSID
Up to 4
WDS Peer
Up to 4
Encryption Security
WEP (64/128-bit)
WPA-PSK (TKIP) / WPA2-PSK (AES)
WPA (TKIP) / WPA2 (AES)
802.1x Authentication
Wireless Security
Enable/Disable SSID Broadcast
Wireless LAN ACL (Access Control List) MAC filtering
Wireless Advanced
AP Isolation: Enable it to isolate each connected wireless clients
Supports 802.11e WMM (Wi-Fi Multimedia)
Max. Supported Clients
Wire: 253
Wireless: 40
System Management
Web-based (HTTP) management interface
Supports SNMP v1, v2c
Supports Planet Smart Discovery and Centralized Management Utility
System Log
Standards Conformance
IEEE Standards
IEEE 802.11n
IEEE 802.11g
IEEE 802.11b
IEEE 802.11i
IEEE 802.3 10Base-T
IEEE 802.3u 100Base-TX
IEEE 802.3ab 1000Base-T
Other Protocols and Standards
CSMA/CA, CSMA/CD, TCP/IP, DHCP, ICMP, SNTP
Environment & Certification
Temperature
Operating: -10 ~ 45 degrees C
Storage: -30 ~ 70 degrees C
Humidity
Operating: 10 ~ 90% (non-condensing)
Storage: 10 ~ 90% (non-condensing)