Gigabit Ethernet Switch

Planet - GS-4210-16T2S

16-Port Layer 2 Managed Gigabit Ethernet Switch + 2 SFP Interfaces

Pret fara TVA:
522.85 RON
Pret cu TVA :
622,19 RON
Disponibilitate :
Sunati
Department / Edge Security and QoS Switch
The GS-4210-16T2S connects up to 16 high speed workstations in the Ethernet environment, in which its two SFP Mini-GBIC interfaces uplink to a department backbone. Moreover, the Switch provides 36Gbps switch fabric and high bandwidth for backbone connection. The GS-4210-16T2S improves the network efficiency and safeguards the network clients with its powerful features:
■ IPv6 / IPv4 management
■ Layer 2 to Layer 4 security
■ QoS
■ 802.1x port-based and MAC-based network access authentication security
■ Multicast IGMP snooping
The advanced functionality of the GS-4210-16T2S eliminates traditional issues associated with the use of Ethernet. Users can be separated with advanced VLAN functionality to enhance security. It makes the GS-4210-16T2S one of the best and most cost-effective switch solutions for SMBs.
High Performance Backbone / Server Farm Switch
Gigabit Ethernet supported equipment has become the fundamental unit of enterprises and network servers. With up to 36 Gbps non-blocking switch fabric, the GS-4210-16T2S can easily provide a local high bandwidth Gigabit Ethernet network for backbone of enterprises or telecoms. With its port trunking function, a 16 GB fat pipe is provided to connect to the backbone if required. It is ideal to be used as a server farm switch connecting to servers. The GS-4210-16T2S can offer the uplink to the edge network through Gigabit Ethernet LX/SX SFP modules with the two SFP ports.
FTTX / MAN Application
The GS-4210-16T2S applies the double tag VLAN (Q-in-Q) technology to providing low cost and easy operation for service providers carrying traffic for multiple customers across their networks. It features SNMP v3 and RMON Groups. The SNMP v3 security structure consists of security models, with each model having its own security levels. With four dual-speed SFP slots built in, the deployment distance of the GS-4210-16T2S can be extended up to 120 kilometers (Single-mode fiber), which provides a high-performance edge service for FTTx solutions.

To build a network solution of FTTH (Fiber to the Home) or FTTC (Fiber to the Curb) for ISPs, and FTTB (Fiber to the Building) for enterprises, the various distances of SFP (small-form factor) and Bidi (WDM) transceivers are optional for customers' choices. For security and various applications, the 16 Gigabit ports of the GS-4210-16T2S can be configured with VLAN settings and connected to different units, offices, floors, houses and departments.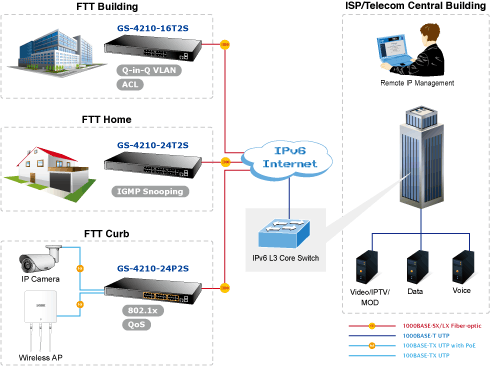 Hardware Specifications
Copper Ports
16 x 10/100/1000BASE-T RJ45 auto-MDI/MDI-X ports
SFP/mini-GBIC Slots
2 100/1000BASE-X SFP interfaces, supporting 100/1000Mbps dual mode
Console
1 x RS232-to-RJ45 serial port (115200, 8, N, 1)
Reset Button
System factory default
Switch Architecture
Store-and-Forward
Switch Fabric
36Gbps / non-blocking
Switch Throughput@64 bytes
26.7Mpps @64 bytes
MAC Address Table
8K entries
Shared Data Buffer
4.1 megabits
Flow Control
IEEE 802.3x pause frame for full-duplex Back pressure for half-duplex
Jumbo Frame
9216 bytes
Reset Button
> 5 sec: Factory default
LED
System:
Power (Green)
10/100/1000T RJ45 Interfaces (Port 1 to Port 16):
1000 LNK / ACT (Green), 10/100 LNK/ACT (Orange)
100/1000Mbps SFP Interfaces (Port 17 to Port 18):
1000 LNK / ACT (Green), 100 LNK/ACT (Orange)
Power Requirements
100~240V AC, 50/60Hz, 0.8A (max.)
Power Consumption / Dissipation
Max. 10.4 watts / 35 BTU
Dimensions (W x D x H)
445 x 207 x 45 mm (1U height)
Weight
2kg
ESD Protection
Yes
Enclosure
Metal
Layer 2 Functions
Port Mirroring
TX / RX / Both
Many-to-1 monitor
VLAN
802.1Q tagged-based VLAN
Up to 256 VLAN groups, out of 4094 VLAN IDs
802.1ad Q-in-Q tunneling (VLAN stacking)
Voice VLAN
Protocol VLAN
Private VLAN (Protected port)
GVRP
Management VLAN
Link Aggregation
IEEE 802.3ad LACP and static trunk
Supports 8 groups of 8-port trunk
Spanning Tree Protocol
STP, IEEE 802.1D Spanning Tree Protocol
RSTP, IEEE 802.1w Rapid Spanning Tree Protocol
MSTP, IEEE 802.1s Multiple Spanning Tree Protocol
STP BPDU Guard, BPDU Filtering and BPDU Forwarding
IGMP Snooping
IPv4 IGMP (v2 / v3) Snooping
IGMP Querier
Up to 256 multicast groups
MLD Snooping
IPv6 MLD (v1 / v2) snooping, up to 256 multicast groups
Access Control List
IPv4/IPv6 IP-based ACL / MAC-based ACL
IPv4/IPv6 IP-based ACE / MAC-based ACE
QoS
8 mapping ID to 8 level priority queues
- Port Number
- 802.1p priority
- DSCP / IP Precedence of IPv4 / IPv6 packets
Traffic classification based, strict priority and WRR
Ingress / Egress Rate Limit per port bandwidth control
Security
IEEE 802.1X port-based authentication
Built-in RADIUS client to co-operate with RADIUS server
RADIUS / TACACS+ authentication
IP-MAC port binding
MAC filtering
Static MAC address
DHCP snooping and DHCP Option82
STP BPDU guard, BPDU filtering and BPDU forwarding
DoS attack prevention
ARP inspection
IP-source guard
Storm control support
- Broadcast / Unknown-Unicast / Unknown-Multicast
Management Functions
Basic Management Interfaces
RJ45 Console / Web browser / Telnet / SNMP v1, v2c, v3
Firmware upgrade by HTTP / TFTP protocol through Ethernet network
Configuration upload / download through HTTP / TFTP
Remote / Local Syslog
System log
LLDP protocol
SNTP
PLANET Smart Discovery Utility
Secure Management Interfaces
HTTPs, SNMP v3
SNMP MIBs
RFC 3635 Ethernet-like MIB
RFC 2863 Interface Group MIB
RFC 2819 RMON (1, 2, 3, 9)
RFC 1493 Bridge MIB
Standards Conformance
Regulation Compliance
FCC Part 15 Class A, CE
Standards Compliance
IEEE 802.3 10BASE-T
IEEE 802.3u 100BASE-TX / 100BASE-FX
IEEE 802.3z Gigabit SX/LX
IEEE 802.3ab Gigabit 1000BASE-T
IEEE 802.3x Flow Control and Back pressure
IEEE 802.3ad Port Trunk with LACP
IEEE 802.1D Spanning Tree protocol
IEEE 802.1w Rapid Spanning Tree protocol
IEEE 802.1s Multiple Spanning Tree protocol
IEEE 802.1p Class of Service
IEEE 802.1Q VLAN Tagging
IEEE 802.1x Port Authentication Network Control
IEEE 802.1ab LLDP
RFC 768 UDP
RFC 793 TFTP
RFC 791 IP
RFC 792 ICMP
RFC 2068 HTTP
RFC 1112 IGMP version 1
RFC 2236 IGMP version 2
RFC 3376 IGMP version 3
RFC 2710 MLD version 1
RFC 3810 MLD version 2
Environment
Operating
Temperature: 0 ~ 50 degrees C
Relative Humidity: 5 ~ 95% (non-condensing)
Storage
Temperature: -10 ~ 70 degrees C
Relative Humidity: 5 ~ 95% (non-condensing)